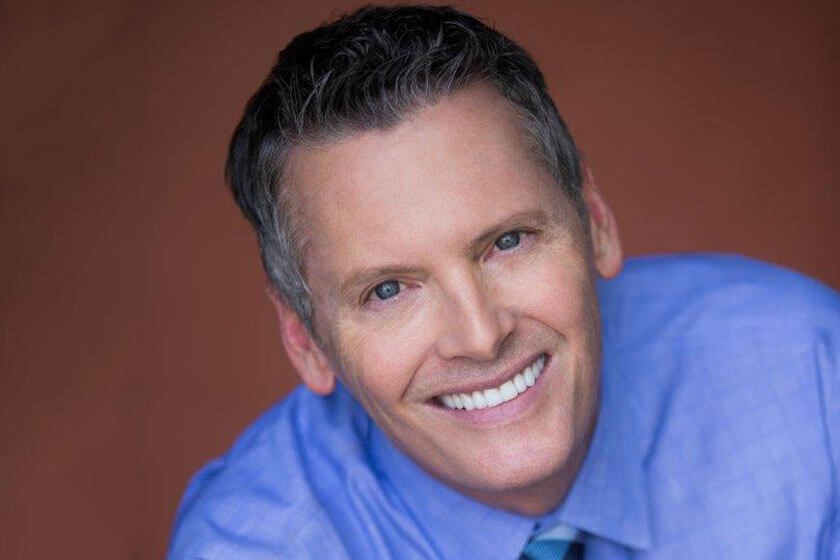 Dr. Troy Gombert is a cosmetic dentist who recreates smiles for the greater Chandler, AZ area from his private practice. Dr. Gombert, whose team lovingly refers to as "Dr. G," began practicing dentistry in 1998 after working as an architect in Orange County, CA for a period of time. He founded Parkside Dental Health in Chandler, AZ in 2002 where his love for helping others continued to grow. He believes that his passion for design and his eye for artistry sets him apart from other cosmetic dentists. Dr. Gombert provides a comprehensive library of general, cosmetic, and restorative dentistry services, including emergency dentistry. Confident in his ability to restore any smile, Dr. Gombert proudly offers a "Beautiful Smile Guarantee" and promises his patients high-quality dental service in a calm and peaceful environment.
Dr. Gombert was a recipient of the renowned "Top Doctor" award in 2011, 2014, 2016, 2020 and 2021.
After receiving his Bachelor of Science from Arizona State University's College of Architecture, Dr. Gombert went to work for the second largest architectural firm in Orange County, CA. Next, he went on to obtain his Doctor of Dental Medicine from the University of Colorado School of Dentistry. While there, he received the Pierre Fauchard Award, an award given for outstanding academic achievement in the study of dentistry. Only one student per dental school receives this prestigious award. Dr. Gombert's thirst for knowledge then led him to the Las Vegas Institute where he received his post-graduate training in cosmetic dentistry.
A self-proclaimed "continuing education buff," Dr. Gombert takes four times the number of continuing education courses required of him by the state of Arizona each year.
A natural born artist, Dr. Gombert is especially skilled in cosmetic dentistry and considers himself a master of smile analysis and design. By offering a variety of surgical and nonsurgical smile enhancing procedures, Dr. Gombert can help patients to improve their natural smile or create a brand new smile. Beginning with a comprehensive consultation, our team will have you self-analyze your teeth asking questions such as, "Are you self-conscious about your smile?" Using your answers and his own personal analysis, Dr. Gombert will create a customized treatment plan that will help you achieve the healthiest, happiest grin possible. In addition to cosmetic dentistry, Dr. Gombert is skilled in emergency dentistry, helping patients to receive pain relief quickly following an oral trauma.
By donating his time and skills to charity, Dr. Gombert feels that he can make a positive impact on his community. As a volunteer dentist with CASS (Central Arizona Shelter Services), he provides a variety of dentistry services to the homeless — free of charge. Dr. Gombert also works with Donated Dental Services, an organization that provides dental care for elderly, disabled, and medically compromised individuals. Dr. Gombert believes that every individual in each walk of life deserves a smile they can be proud of and understands the impact that a healthy smile can have on life circumstances. It is for this reason that he donates his time and services gladly.
Memberships and Affiliations
Fellow, Academy of General Dentistry
Sustaining Member, American Academy of Cosmetic Dentistry
Member, American Academy of Facial Esthetics
Dental Organization for Conscious Sedation
Post-Graduate Cosmetic Training, Las Vegas Institute
Faculty Club Member, Spear Education
American Dental Association
Post Graduate Advanced Education, Hornbrook Group
Student, Advanced Dental Education, Kois Center
Reviews
"What an amazing experience!"
Test
Office Visit
"If I could design my dream dental office, it would be Parkside Dental Health. They just don't get any better than this! Great staff, wonderful technicians who care about your comfort, a doctor who IMHO is an artist, and the fact that I always leave with a smile on my face - knowing that I have just had the best dental care anywhere in the valley... Thank you Dr. Gombert and staff for doing what I never thought was possible: making my dental visits a pleasurable experience!   RayB"
R.B.
Yelp
"I had never had such an awesome dentist in my life until I was 29 and started seeing Dr. Gombert. Not only is he a fantastic dentist, he does amazing cosmetic dentistry as well. I never liked my smile my entire adult life. I had "spotty" and stained teeth due to genetics. Once my adult teeth grew in, they had this unflattering character. I did not get braces like I should have in my early adolescence. My teeth were very crooked, especially on the bottom. I decided to do whitening and get Invisalign at age 30-31. Although Invisalign corrected my bottom teeth, I still had issues with my top teeth. Dr. Gombert suggested traditional braces. At that point I had given up and decided to stop the Invisalign and not do the traditional braces. I was still unhappy a few months later and decided that Veneers was my best option. Dr. Gombert did an amazing job and I have never been so confident about my smile. My teeth are beautiful and my smile is one of my best features. I highly consider the investment...your smile says so much about you and is worth it!"
S.P.
Yelp
"So glad I found Dr Gombert and his fine staff a few years ago. I'd been clinging to my decades-long dentist in southern California because he'd been so great, but it was becoming unworkable to commute for dental work. Found Dr Gombert and he's been just as great as my previous dentist. The entire staff is awesome, from reception to the hygienists. If you are looking for a new dentist - look no further, you've found your guy."
K.C.
Yelp
"Amazing, truly talented and an artist in his field. I recently had 10 upper veneers placed and this was my first experience with Dr. Gombert and his team.  After months of research and multiple consultations, I chose Dr. Gombert for the procedure.  His fees for the service were on the upper end (not outrageous and definitely inline with top board certified dentists) but, when it comes to my teeth and smile money wasn't my primary deciding factor.  I confirmed he does use top of the line products and they are AZ local. I felt extremely comfortable with him from our first visit. He was honest about the results and, since it was strictly for cosmetic reasons, did offer other options that would be more cost effective if timing wasn't a concern.  He gave me all the disclaimers up front as far as preparation, treatment, timeline, pain factor and answered every question and concern I had very truthfully.  After both procedures, he called me to see how I was feeling, both on Friday night and Saturday.  He is just all around a very nice and caring man. In addition, his staff was beyond warm and welcoming.  On my first visit to the office, the front desk ladies greeted in a friendly manner, almost as if I was a client for years.  Lori was very lively and put me at ease when signing off on thousands of dollars for cosmetic work.  Most of his staff have also had work done by Dr. Gombert and they all look beautiful.  The office is very clean and inviting with a waiting room stocked with Keurig coffee and bottle water. The experience was just a bonus, my results were way beyond my expectations.  I'm truly grateful to Dr. Gombert for his amazing work on my smile.  I will be a client now for life!"
M.P.
Yelp
Related Posts